6 Reasons To Love Living in Midway, Utah
Posted by Ben Fisher on Monday, July 25, 2022 at 5:46 PM
By Ben Fisher / July 25, 2022
Comment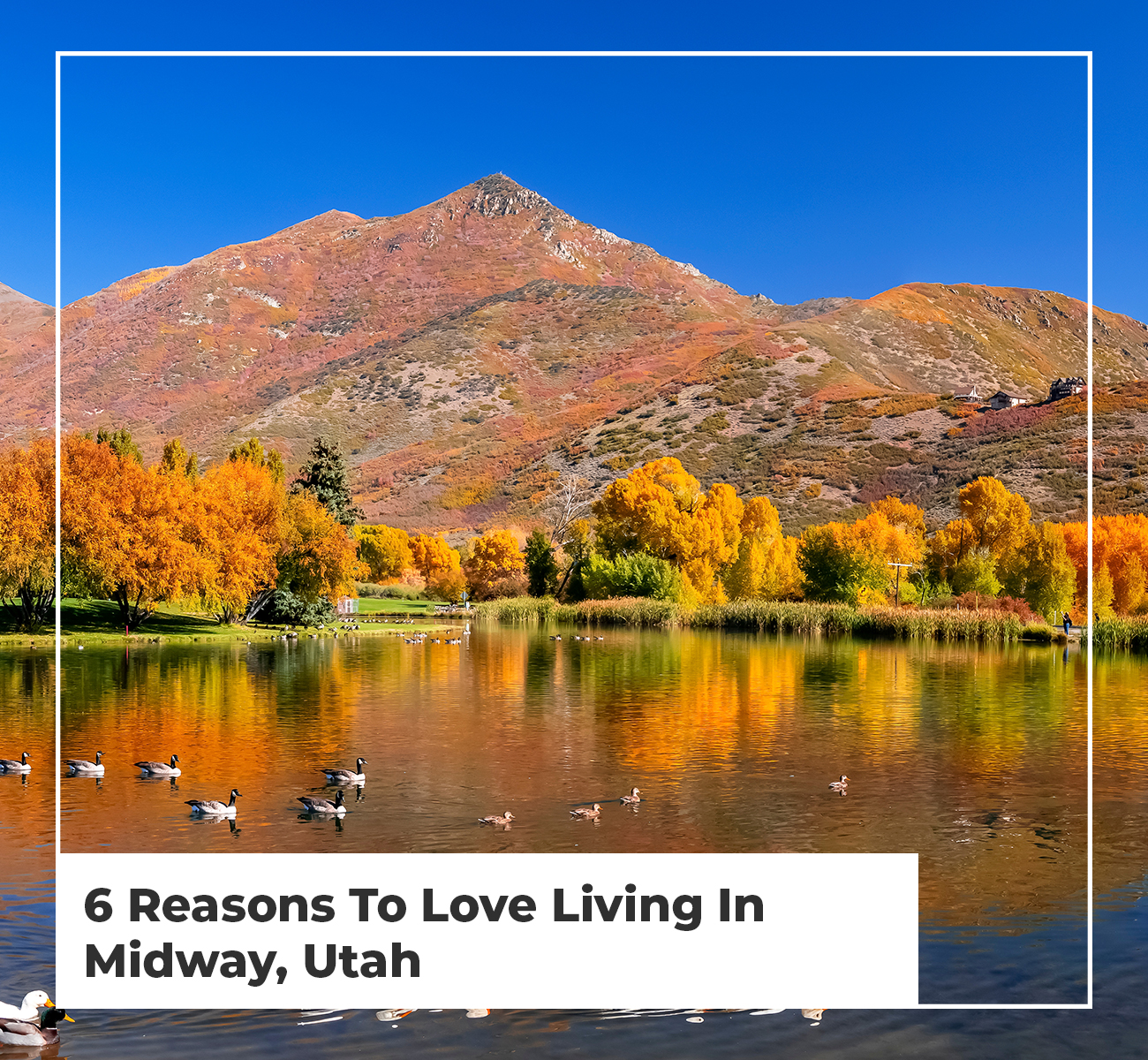 With its Swiss heritage, Midway is a charming city 28 miles southeast of Salt Lake City and 3 miles west of Heber City. It lies in the Heber Valley amidst the Wasatch Mountains and was named for the location in this valley.

The area was occupied by Indians when early settlers came to the area. Beginning in the 1860s, a number of Swiss families arrived, and by 1891, Midway was incorporated. They farmed and raised livestock, and while agriculture is still prominent in the area, Midway evolved into an outdoor mecca.

Midway is governed by a city council. They make sure the city runs smoothly, and planning and development are done in a responsible manner.

Midway's ideal location allows residents to enjoy skiing in Park City or Sundance, explore the mountains and lakes, or drive to Salt Lake City for nightlife and other big city attractions.

Many families enjoy all Midway has to offer, from great schools, friendly neighbors, and the great outdoors for camping trips, hiking expeditions, and more. With four distinct seasons, there is variety in Midway.
A Like-Minded Community
Midway's population spans all age groups - about one-third are under 18, 10% over 64, and the rest are in the middle. Around 97% are white, and 6% are Hispanic. About 10% were born outside of the United States. Over 70% of the residents are married, and over 40% have children living in the home. The median household income is near $75,000 per year.
People in Midway are proud of their European heritage, which shows in the city's character and the events that bring the community together. There are art shows, yoga in the park, farmer's markets in the summer, and holiday celebrations.
There are several Mormon churches in the area and churches of different denominations in Midway and nearby Heber City.

Beautiful Homes
There are two main neighborhoods in Midway where around 6,000 people make their homes. Midway homes are on the pricey side. Homes generally have 3-5 bedrooms and three or more bathrooms. Home styles vary greatly. There are small, quaint homes and large estates. There are homes near the center of town, and others tucked away near the forest.
Here are a few of the popular neighborhoods:
Interlaken is to the west and north. There are medium to large single-family homes and some rentals. Homes have 3-5 bedrooms and most were built since the year 2000. Some homes are in a more suburban setting; some are up against the foothills and have more space and a larger footprint.
Married couples, often with families, and retirees flock to this area.
The Charleston neighborhood is to the west, abutting nearby Heber City neighborhoods. Home prices are more affordable than Interlaken. There are medium and large size homes in a suburban setting.
Great Schools
Midway is served by the Wasatch School District. While you may be assigned a school closest to your residence, you may choose another school in the area if there is capacity. Five elementary schools serve Midway: Daniels Canyon, Heber Valley, JR Smith, Midway, and Old Mill. There are two middle schools: Rocky Mountain Middle and Timpanogos Middle. Then students continue to Wasatch High School. Soldier Hollow Charter Schools is a public school in Midway. There are also private school options, including Daniels Academy, an all-boys high school in Heber City.
Close to Employment
Many residents of Midway commute to Provo, Park City, Salt Lake City, and Orem for work. Salt Lake is a 45-60 minute drive, Orem is a little over 30 minutes, Provo is 40 minutes southwest on Hwy 189, and Park City is about 25 minutes north on the same highway.
The median income is just over $100,000 and many work in professional, managerial, sales, and office positions. There are also a large number of artists, designers, and media workers. About 15% of the population works from home on a regular basis.
With its close proximity to ski resorts and the high numbers of tourism dollars that come to the area, jobs in the service and recreation sector are always available.

No Shortage of Things to Do
Midway is perfect for outdoor recreation. Surrounded by mountains, there is skiing, snowmobiling, snowboarding in the winter and hiking, and mountain biking in the summer. There are several reservoirs for fishing, boating, and swimming.
Midway hosts Swiss Days celebrating Alpine heritage each year right before Labor Day. There is a market, great food, a parade, and a sheepdog contest.
Homestead Crater is a journey into the earth, but instead of molten lava, you are rewarded with a geothermal spring. Tip your toes or don your scuba gear and dive down into the 65-foot depths. The walls of the crater and the hole in the top provide a unique experience.
Homestead Golf Club is a par 71 top-rated course. In addition to the course, there is a putting green, chipping green with a sand trap, and a driving range. You can rent clubs, buy equipment and clothes in the golf shop, and enjoy beer and burgers at Fanny's Grill.
Take a farm tour at Kohler Creamery, where you can meet the cows, see the milking system, and check out where the cows hang out in the pasture. In addition to cheese and other dairy products, they sell jams and other local fares. Don't forget to check out their calendar and find out when you can take a class to make your own batch of mozzarella or pick pumpkins.
Ice Castles are created by professional ice artists each January through February. Each sculpture is created from thousands of icicles for a spectacular castle.
Drive to the top of Memorial Hill for a great view of the entire Valley. While up there, remember the veterans that fought for our country.
The Provo River runs between Midway and Heber City. Year-round, anglers can fly fish for rainbow and brown trout. Pick up a fishing license at wildlife.utah.gov. There are miles of shoreline, parking lots, and walking trails to find your perfect spot. The Provo River also has 4.5 miles of Class I-III whitewater rafting section and areas through the canyon where a gentle float beats the hot summer heat.
Deer Valley and Sundance ski resorts are a short drive - one north and one south. With an average of 300 inches of snow per season, these resorts have groomed trails and amazing powder for all levels. Deer Valley is reserved for just skiers with over 100 runs. Sundance accommodates skiers, snowboarders, snowshoeing, and cross-country skiing. There are 45 downhill runs, and you can ski during the day or at night. Sundance also offers ziplining, mountain biking, hiking, and horseback riding in the summer. The lifts also operate during the summer to take you to the top of the mountain for amazing views.
South of Midway is Deer Creek State Park which has 18 miles of shoreline and 3,000 acres of water. There is a beach, aqua park, camping, boating, watercraft rentals, and a marina. There's also The Lakehouse at Deer Creek restaurant. Eight miles of hiking trails surround the reservoir.
Wasatch Mountain State Park is 23,000 acres of wilderness. Take your bike, horse, or snowmobile, or just hike the many miles of trails. There are campsites, a golf course, a fishing pond, and an archery range.
Several local parks are scattered throughout the neighborhoods with playground equipment, picnic shelters, barbecue pits, walking trails, and dog parks.

Soldier Hollow Nordic Center was the site of the 2002 Olympic biathlon, cross-country, and Nordic combined events. In addition to these world-class courses, you can also participate in snow tubing, snowshoeing, and sleigh rides.
Amazing Places to Eat
Midway has several eateries that are worth checking out:
The Midway Mercantile is in a classic 140-year-old brick building on the main street. The location was originally a general store, and it's now one of the most popular restaurants in Midway. They serve pub fare, pizzas, fresh pasta, trout, seafood, steaks, and a daily vegetarian or vegan entree.
The Blue Boar Restaurant is a special occasion destination. There is an Inn attached for a weekend getaway, and the establishment has won awards for Best Northern European Fine Dining and Best Plated Brunch. Enjoy fine dining in an elegant atmosphere.
For more casual fare, check out Lolas on Main Street. The chef creates dishes with local, organic, and high-quality ingredients. Order sandwiches, salads, power bowls, melts, and dessert from the bakery. They have gluten-free options as well.
The Heirloom Common and Heirloom Market on Main Street offers entrees from several restaurants in one gathering place. You can have a stroganoff from one place, and your friend can have a pizza and enjoy the amazing atmosphere.
To satisfy your sweet tooth, check out Midway Bakery on Main for cinnamon rolls or Suss Cookie Company for unique and classic cookie flavors.
Moving to Midway
Midway has a lot going for it with a convenient location in proximity to ski resorts, national forests, and large urban areas. Whether you are looking for a place on the outskirts that is still an easy commute to the office or are retired and enjoying the quiet life, Midway has the perfect home and lifestyle.