Ranked: Best Schools In Deer Valley UT
Posted by Ben Fisher on Tuesday, December 21, 2021 at 7:22 PM
By Ben Fisher / December 21, 2021
Comment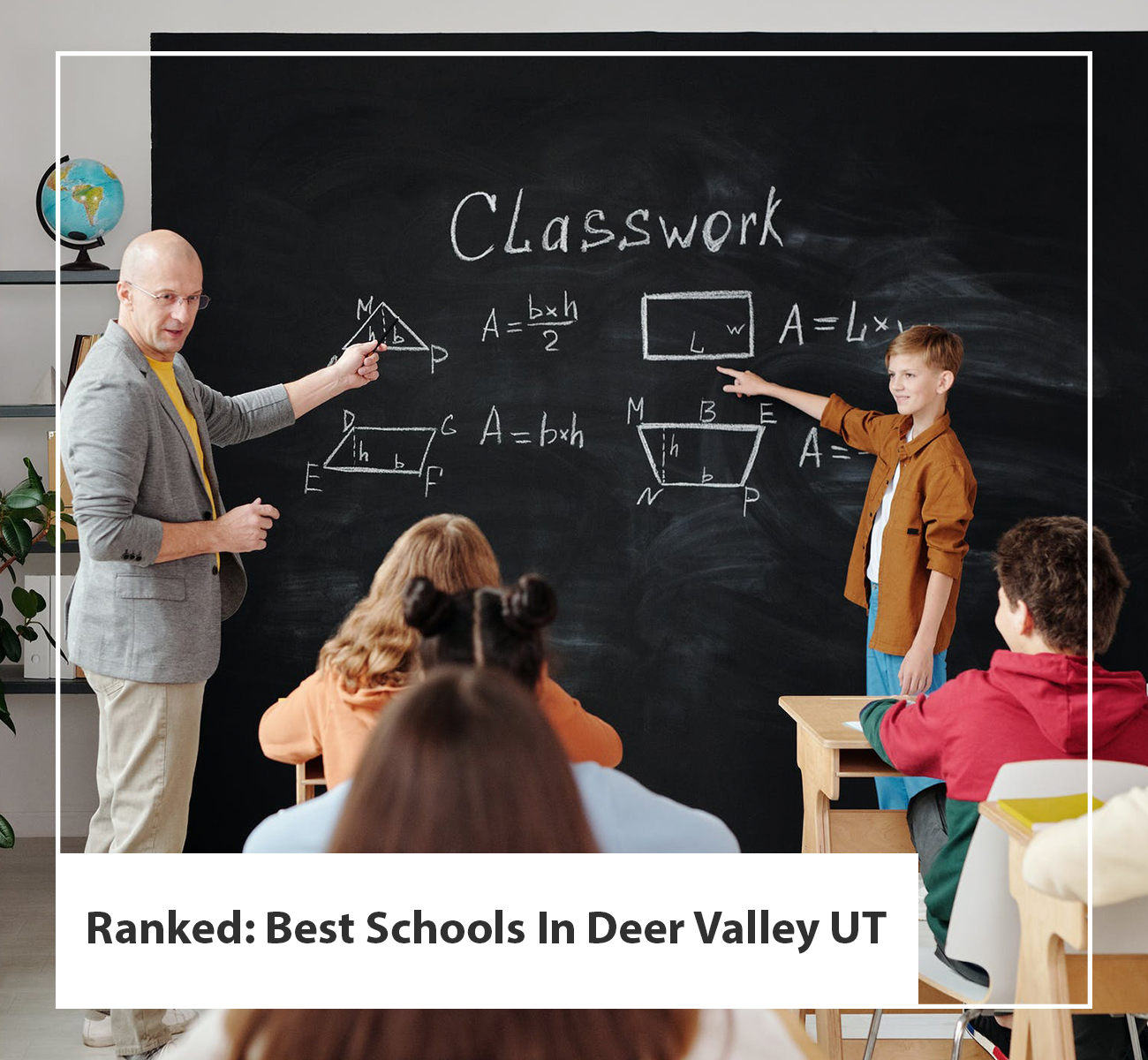 If you are an avid, outdoor enthusiast, you have probably planned a trip to Deer Valley, UT. Whether it is for their fantastic skiing in the winter, or their breathtaking views while hiking or mountain biking in the summer, Deer Valley, UT is a great place to visit, and an even better place to live. Deer Valley is a small town with some artsy and eclectic shops, great restaurants and nightlife and is only a mile away from their famous ski resort.
This historic mining town tends to attract young professionals and young families who want to move to Deer Valley for the quality of life found in this small town. Specifically, attractive amenities such as high-end shopping, five-star restaurants, art galleries and top-of-the-line schools.

Park City public schools are known as the best in the state, and one of their high schools is rated in the top 2% in the nation. There are also some great private schools to choose from. Since education is a key factor in raising a family, if you are thinking of moving to Deer Valley, take a look at the options for excellent schools. There are 43 schools in total in Park City/Deer Valley, UT. There are 4 pre-schools, 16 elementary schools, 5 Middle Schools, 3 High Schools, 12 Public District Schools, 2 Public Charter Schools and 29 Private Schools. Let's look at the top 5 elementary schools in Deer Valley:
1) McPolin Elementary
According to GreatSchools.org, McPolin Elementary School is in the public district and houses approximately 382 kids. It's ranked # 8 for the best public elementary school in Utah. Based on test scores and student progress, students at McPolin Elementary School rate above average in the state, specifically in math, english and science. This rating reflects strong academic skills and academic growth. The ratio of student to teacher is 11:1 compared to the state average of 22:1. Feedback from parents who have kids enrolled in the school reflects that the teachers are caring and dedicated, the principal has a great vision and the dual language immersion program is well received.
Check out this glowing review: "We are delighted with this school! We came in late to the Spanish Immersion and our child is thriving. We also came in with an IEP and are getting brilliant support. Our child is beyond happy. We had a very challenging experience at another local school and this is such a wonderful surprise."
2) Jeremy Ranch Elementary
With a population of approximately 500 students between Kindergarten to Grade 5, Jeremy Ranch Elementary School rates in the top 5% in the state. Based on test scores and student progress, Jeremy Ranch scores a 7/10 average. Jeremy Ranch boasts very strong test scores in Math and Reading. For the past five years, Jeremy Ranch has kept its scores consistent.
3) Parley's Park Elementary
Parley's Park receives an overall A grade and is ranked as the 11th best elementary school in Utah. According to state test scores, 59% of students are at least proficient in math and 60% in reading. With approximately 550 students between the grades of Kindergarten and Grade 5, Parley's Park has a student-teacher ratio of 18:1. It ranks in the top 20% for highest math proficiency, highest reading/language arts proficiency and the lowest student-to-teacher ratio.

WSD is a tuition-free, Kindergarten to Grade 8, public charter school that rates in the top 50% of the state. The school has a vision to help its students discover their potential through alternate learning methods, innovation and change. Their goal is to help prepare students to excel. They move beyond STEM learning and promote project-based learning and introduce art, music, and new technologies. Students here engage with the outdoors to complement their learning experience. There is no better review of a school than from a student who is currently enrolled there.

This review speaks for itself: "I am a 7th-grade student that has been going here since 4th grade and has loved it. The teachers are nice and fun, my adventure PE class is so much fun. The middle school is very hands-on, we go outside to our creek and do science there. I definitely recommend this to anyone that is thinking about going to Weilenmann. The teachers are very understanding and what to help you learn. We do many school things like the read-a-thon where we read and have donuts for the whole day. That is only one of the many things that we do during the school year, the 8th graders are going to Lagoon at the end of the year. We have 4 school parties that we do as a whole middle school. We have a Latin class, we also have a CCA class which is a stem class where we learn about careers in stem. In all, I think that this is a great school and you should definitely think about going to Weilenmann."
5) Trailside Elementary
Trailside Elementary is rated as an above-average public school, ranking at #4 for Best Public Elementary Schools in Summit County. Approximately 400 students are registered here with a great student-teacher ratio of 15:1, lower than the state average of 17:1.

Other Schools
Ecker Hill Middle School
Ecker Hill has over 700 students registered in Grade 6 & 7. They have placed in the top 50% of all schools in Utah for overall test scores with math proficiency in the top 50% and reading proficiency in the top 30%. The Utah state average is 45% and most students at Ecker Hill achieve 46% or higher. With a total of 36 teachers, the student-teacher ratio is 17:1.
High Schools
There are 3 high schools in the Park City District. The Winter Sports School, which is a public charter school for grades 9-12; Treasure Mountain Junior High School, and Park City High School.
Park City High School
In the Park City District, this high school is rated #1 in Best Public High Schools. They receive an A rating in the areas of academics, teachers, college prep, clubs and activities With an average of 1,200 students, this highschool has high rated proficiency test scores in both math and reading. It is well known for its academic standards and unique learning opportunities.

It receives great reviews such as: "Park City High School is a very ambitious school. Though I have not been there for a long time, I can see that it offers many different opportunities for different pathways. Although it is largely focused on the heavier academics like math and science, it does a good job setting up kids for college.
If you are thinking of moving to Deer Valley, UT, be sure to research the schools that you may be interested in. With some of the best schools in the state, you have plenty of great options to choose from depending on the needs of your children. No matter which school you choose, your children will receive a top-tier educational experience.
The Fisher Group is a multi-faceted team that can offer their clients significant experience whether they are purchasing or selling property in Park City, UT. This experienced real estate team knows the industry and strides on getting the clients exactly what they are looking for.
Homes For Sale In Park City, UT