The Ultimate Guide To Living in Heber City, Utah for 2022
Posted by Ben Fisher on Monday, July 25, 2022 at 12:39 PM
By Ben Fisher / July 25, 2022
Comment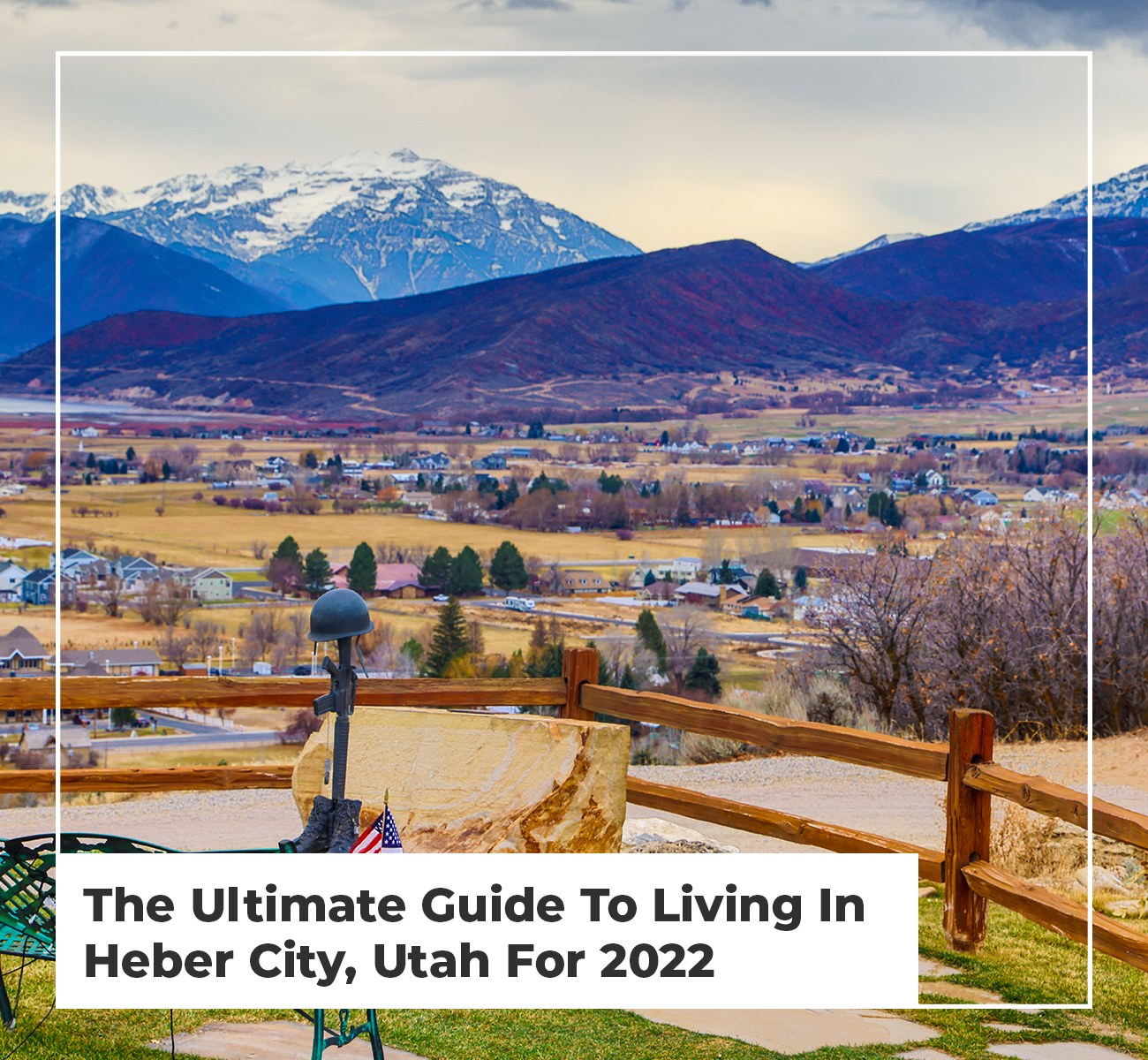 Forty-three miles southeast of Salt Lake City lies the community of Heber City, Utah. Nestled at the base of the Wasatch Mountains at an altitude of 5595 feet, Heber City has an ideal location, beautiful homes, and plenty of fresh mountain air.
Located between Sundance and Park City, Heber City is mountain living at its finest without being far from nightlife, restaurants, and the big city appeal of Salt Lake City and Provo.
Heber City's location is perfect for enjoying the city life and wilderness areas. If you are a skier or snowboarder, you are halfway between two major resorts. If you need to leave town, the Heber City Municipal Airport is just south of the city, and major highways lead you to Orem, Provo, Salt Lake City, and other areas of interest.
Heber City has small-town appeal and a great sense of community. In the 1850s, early English settlers came across this valley and decided it would be a perfect place to farm.
Heber City has evolved into a major city but has taken care to preserve its heritage. There is a broad main street with historic buildings repurposed as restaurants and specialty shops. At the same time, familiar eateries, shopping locales, and modern amenities meet your family's modern needs.
Many families enjoy all Heber City offers, from great schools, friendly neighbors, and the great outdoors for camping trips, hiking expeditions, and more. Heber City enjoys distinct seasons. It's cold and snowy in the winter and warm and hot in the summer.
Homes For Sale in Heber City, Utah
According to the 2022 Census, just under 17,500 people make Heber City their home. The area is growing tremendously, and there are a wide variety of homes to choose from. You can choose from suburban neighborhoods with manicured lawns, homes with swaths of land in the foothills of the mountains, or homes on the banks of the local reservoirs.
The median home price is around $700,000, with luxury homes reaching $17.5 million. Over half of the homes were constructed after 2000, but there are homes in the area that were built before 1940. There are single-family and townhomes/condos for sale. Home prices have been on the rise since 2013.
Homes generally have 2-5 bedrooms and 2-4 bathrooms. Styles vary from log cabins to modern construction and everywhere in between. There is also land for sale in which to build your dream home.

Here are a few of the popular neighborhoods:
Heber City North - you will find larger, newer homes in this area - think 4-5 bedrooms. There is also a good deal of medium-sized homes and townhomes. You'll find executives, professionals, and retirees living here—fun fact: 16% of Heber City North's residents have a Danish heritage.
Heber City South - this neighborhood extends from main street east to South Mill Road, south to Interstate 40, and north to East Center St. Homes are right in the median price for the city as a whole. While most homes were built after 2000, several were built before 1940. Heber City South is a popular place to live for college students.
Heber City West - this neighborhood includes the Heber City Airport. It's bordered by South Daniel Road and Hwy 189. There are more rural homes in this area, so there is less traffic and more room between you and your neighbors. Homes here tend to run higher than the median selling price.
Daniels - this neighborhood has medium to large homes with some apartment complexes mixed in. The neighborhood is on the south end of Heber City, close to the local airport. Most homes were built after 2000. Residents tend to be in executive, professional, and sales positions—fun fact: Residents in Heber City own more cars than residents in other areas.
Center Creek - this neighborhood is one of the more expensive neighborhoods in Utah. It is located on the southeast side of Heber City. There are large and medium-sized homes—some back up to the hills.
City Center - homes are located to the west of the main street. They are more in the center of town, and the median home prices are somewhat lower than in the outlying areas. This neighborhood has a unique character.
Great Schools in Heber City, Utah
Heber City is served by the Wasatch County School District. Rest assured that your children will receive a well-rounded education with plenty of extracurricular activities. Children start at Heber Valley, Old Mill, Daniels Canyon, or JR Smith Elementary Schools. They continue with Midway, Timpanogos, or Rocky Mountain Middle School. And finally, they attend Wasatch or Wasatch Alternative High Schools.
Utah Valley University has a satellite campus in Heber City for those who want to continue their education.
Employment in Heber City, Utah
Locals often commute to Provo, Park City, Salt Lake City, and Orem for work. Salt Lake is a 45-60 minute drive, Orem is a little over 30 minutes, Provo is 40 minutes southwest on Hwy 189, and Park City is about 25 minutes north on the same highway.
There is some farming and ranching in the area, but those who stay in Heber City to work find jobs in the Wasatch School District, golf courses, restaurants, and specialty shops. Summer and winter seasonal work are available at the ski resorts or state parks. Due to the significant dollars that come into the area due to tourism, the service industry is always looking for employees.

Things to Do in Heber City, Utah
Heber City is an outdoor paradise. From skiing, snowmobiling, and snowboarding in the winter to hiking, mountain biking, and boating in the summer, you are sure to satisfy your adventuresome side.
Deer Valley and Sundance ski resorts are a short drive - one north and one south. With an average of 300 inches of snow per season, these resorts have groomed trails and amazing powder for all levels.
Deer Valley is reserved for just skiers with over 100 runs. Sundance accommodates skiers, snowboarders, snowshoeing, and cross-country skiing. There are 45 downhill runs, and you can ski during the day or at night. Sundance also offers ziplining, mountain biking, hiking, and horseback riding in the summer. The lifts also operate during the summer to take you to the top of the mountain for amazing views.
There are three state parks in Heber City. Jordanelle State Park is a man-made reservoir with camping, hiking, boating, a marina, an event center, and a beach. You can rent fishing boats, personal watercraft, kayaks, stand-up paddleboards, and snowshoes.
Deer Creek State Park has 18 miles of shoreline and 3,000 acres of water. There is a beach, aqua park, camping, boating, watercraft rentals, and a marina. There's also The Lakehouse at Deer Creek restaurant. Eight miles of hiking trails surround the reservoir.
Strawberry Reservoir is popular among boaters, anglers, hunters, and snowmobilers. There is a marina and miles of hiking trails, which are also used for snowshoeing and cross-country skiing in the winter. Camping is available in the summer.
Wasatch Mountain State Park is 23,000 acres of wilderness. Take your bike, horse, or snowmobile, or just hike the many miles of trails. There are campsites, a golf course, a fishing pond, and an archery range.
Soldier Hollow Nordic Center was the site of the 2002 Olympic biathlon, cross-country, and Nordic combined events. In addition to these world-class courses, you can also participate in snow tubing, snowshoeing, and sleigh rides.
The Heber Valley Railroad offers 90-minute to 3-hour rides through the Heber Valley. It's a great way to soak in the scenery through a canyon, alongside a river, and through fields and pastures. Keep your eyes open for deer, moose, eagles, foxes, hawks, and other wildlife that frequents the areas.
The CAF Utah Wing Museum is the perfect place to go back in time. Check out the World War II aircraft collection and let your imagination fly.
Star gazing is another perk of living in Heber City. Jordanelle State Park is an International Dark Sky Certified Park, although all the parks listed above are great places to view the night skies.
Restaurants in Heber City, Utah
In addition to the popular chain and fast-food restaurants, Heber City has several eateries that are worth checking out:
The Lakehouse at Deer Creek sits next to the reservoir and is a perfect place to enjoy a Utah heritage menu - meaning locally foraged and sourced foods. There's a warm fireplace for cool nights, a patio for summer dining, and live music on the weekends.
Spin Cafe is on Main Street and has fresh fare such as grilled salmon, pulled pork, and homemade gelato.
Creekside Yurt Dinner is a wintertime destination. Snowshoe hike through the forest in the Wasatch Mountain State Park for a four-course meal and outdoor experience.
OG Cafe is on South Main Street and is open for breakfast or brunch. Enjoy coffee, sweets, and sandwiches.
Grab a craft beer at Heber Valley Brewing Company. Beers on tap always change, but their specialty is the Belgian Style Ale.
Chick's Cafe is a classic diner with American fare. Think chicken fried steak, burgers, and pie. This is a local favorite.
Dairy Keen has been serving homemade fare since 1946. Check out the display of model trains before or after your meal.
Moving to Heber City, Utah
Heber City and its surrounding areas offer so much for a resident. When you move to Heber City, you are in the middle of Heber Valley, a large community of towns surrounded by beautiful mountains. You can enjoy the great outdoors and then relax in your beautiful home.
There is a small town appeal with the big city within an hour. The views are gorgeous, and the possibilities are endless. We've given you a glimpse of what Heber City has to offer. You have to see it to experience it. See what awaits you in Heber Valley.
The Fisher Group is a multi-faceted team that can offer their clients significant experience whether they are purchasing or selling property in Park City, UT and surrounding areas. This experienced real estate team knows the industry and strives to provide clients exactly what they are looking for.