The 30 Best Things To Do In Park City, UT During The Summer
Posted by Ben Fisher on Sunday, June 19, 2022 at 3:30 PM
By Ben Fisher / June 19, 2022
Comment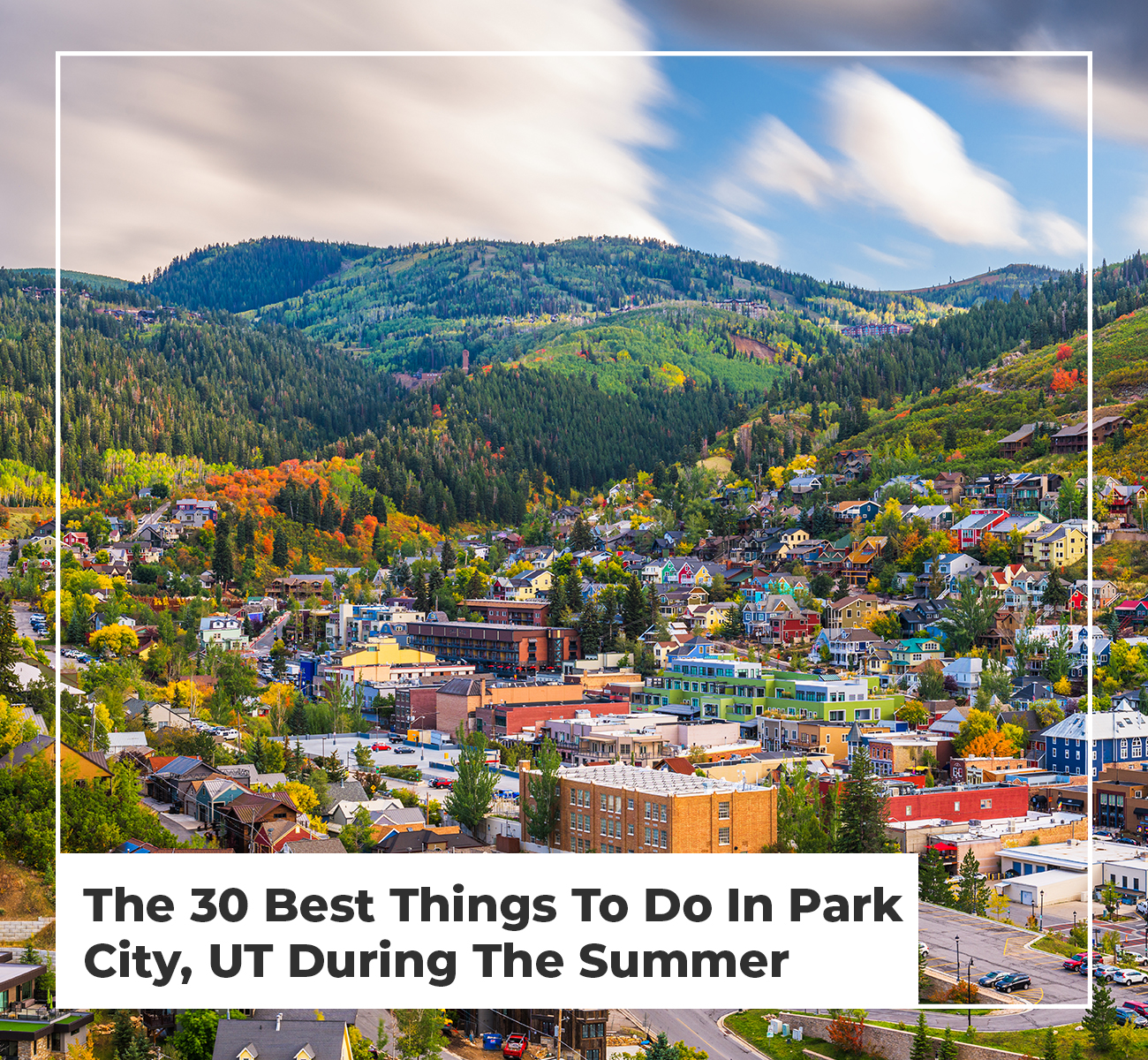 Living in Park City, summer is vibrant, and warm, and offers unlimited opportunities for fun, excitement, adrenaline boosts, and more. Whatever kind of fun you're craving, Park City summertime has it for you. Enjoy horseback riding, golfing, hiking, various water sports, and much more. Park City summer is warm, fun, and exciting! If you're hunting for the best Park City summer things to do, then you've arrived at the right place! We share the best things to do this summer in the busy, vibrant city! So get ready for the 30 best things to do this summer in Park City, UT!
Park City Summer Things To Do
Before we dive into a vast list of the best Park City summer activities, let's explore some summer safety tips. First, always wear sunscreen, sunglasses, and a hat. Then, if you're headed out for the day, consider packing water and a nutritious snack. For some summer activities, bug spray might be helpful too.
Best Things To Do In Park City, UT
Take a ride on a hot air balloon.
Indulge yourself in a birds-eye view of Kamas Valley and hop on a hot air balloon. Float hundreds of feet into the sky and watch as everything becomes smaller. Hot air balloon rides take place at sunrise, offering spectacular sights and unique views.
Try out some water sports.
Water sports are fun, and in Park City, summer is the time to indulge. Trying out various water sports can be a great mood booster, a great workout, and is low impact. In addition, water sports are an excellent source of excitement. Park City is a fantastic place to set out onto the water. There are many rental places available for equipment as well.
Water Sports in Park City, UT
Rafting
Kayaking
Tubing
Jet skiing
Practice your golf swing.
Whether an expert golfer or just trying out a new hobby, the Park City summer season is the best time to explore the various golf courses. These golf courses are spectacular and carefully crafted.
Best Golf Courses in Park City, UT

Go bike-riding.
Park City summer is a popular time for mountain bikers to explore the region. The city has a vast range of trails with various terrain. Riders will be able to climb, cruise and explore hills, mountains, gorgeous plants, and incredible sights. Park City, Utah offers hundreds of miles of trails, paths, and parks to explore on a bike.
Mountain Bike Trails in Park City, UT
Armstrong Trail
The Spine Trail
Fink Again Trail
Take a stroll down historic Main Street.
Park City's Main Street is iconic. But, over the years, it has become its own tourist attraction. Main Street has more than two hundred unique shops, one-of-a-kind boutiques, and amazing restaurants.
Places to Explore On Historic Main Street, Park City
Wander through the Uinta National Forest.
The Uinta National Forest encompasses a massive area. It is more than two million acres and is home to an abundance of pine trees and other plants. Check the forest office for details about guided tours and wildlife.
Enjoy some outdoor concerts at Deer Valley.
During the Park City summer months, Deer Valley hosts multiple outdoor concerts. Spectators can preorder gourmet picnic bags to be served during the entertainment, visit the fully stocked concession stand and enjoy the perks of reserved seating. In addition, deer Valley offers lodging packages if you're looking for an overnight getaway!

Take a chairlift ride.
If you have a fear of any heights, you might be spooked by this suggestion, but honestly, the view is spectacular. It might be worth overcoming your fear just to experience it! See the tops of tall trees as you ride up a spectacular mountain.
Go hiking.
The benefits of hiking are huge. You see different sights, experience different things, and improve your physical fitness. Not to mention all the positive benefits to a person's mental health! Luckily, the Park City summer season is a great time to explore all the hiking trails in the area. There's a trail for all skill levels.
Great Hikes in Park City, UT
Dawn's Trail - 1825 Three Kings Drive.
Quinn's Junction Trailhead - 84098 Gilmor Way.
Bloods Lake & Lackawaxen Trail

Visit the market.
Shopping at markets is a great way to support local farmers and businesses. In addition, you'll get to choose from the freshest produce and unique souvenirs.
Markets in Park City, UT
Additional Summer Fun Ideas
Enjoying the Park City summer season doesn't require any effort. If you're a more simple person and enjoy less adrenaline-packed adventures, then consider the list below. Summer is a terrific season to get out and enjoy everything.
Set off fireworks
Host a backyard bbq
Attend a festival
Take part in a charity run
Don't Forget These Ones
Okay, we've flooded you with awesome things to do during the summer in Park City, Utah, but we still have a few more ideas up our sleeves! So make sure to spend time at the beach, wander through parks, admire community gardens and hone in on the simple things. Park City summer season is beautiful.
Best Beaches, Park City Summer Season
Cemetery Point Beach
Vinyard Beach
North Beach
Best Parks in Park City, UT
City Park
Old Town Neighborhood Park
Prospector Park

Finally
The Park City summer season is beautiful. The area offers world-class mountain biking, spectacular hiking, unique markets, and much more. With little effort, you can find exciting summer fun peeking through all over Park City. So pack your day bag, squirt some sunscreen, and get ready to have the best summer ever!
The Fisher Group is a multi-faceted team that can offer their clients significant experience whether they are purchasing or selling property in Park City, UT. This experienced real estate team knows the industry and strives in getting clients exactly what they are looking for.
View All Homes For Sale In Park City, Utah