The Ultimate Golf Course Guide To Park City, Utah
Posted by Ben Fisher on Monday, July 24, 2023 at 9:00 AM
By Ben Fisher / July 24, 2023
Comment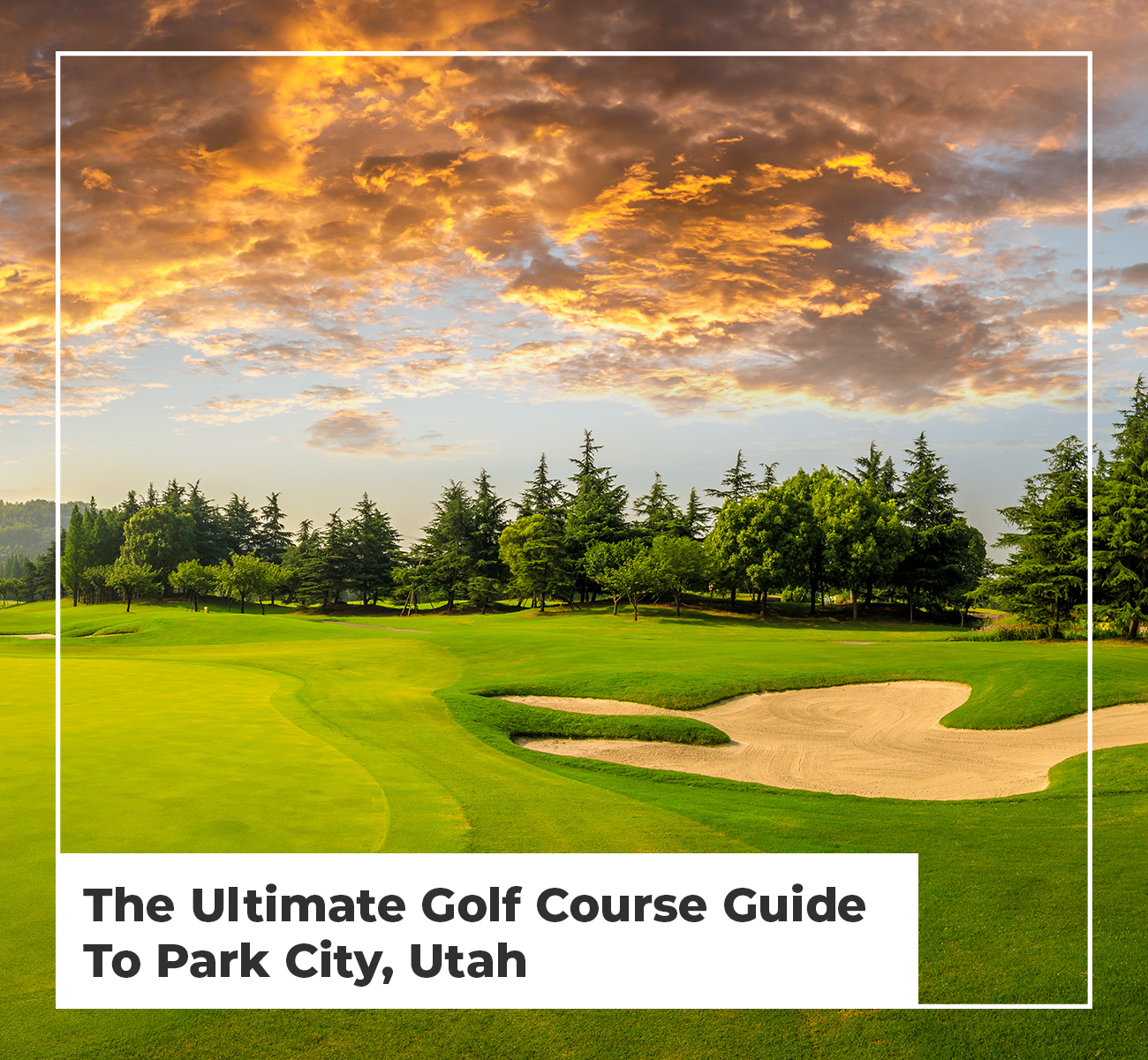 Park City, Utah is not only a renowned destination for winter sports and outdoor adventures, but it's also a golfer's paradise. Nestled amidst the breathtaking mountain scenery, this charming town boasts a plethora of exceptional golf courses and welcoming golf communities. Whether you're a seasoned golfer or a beginner looking to hone your skills, Park City offers an array of options to suit every player's preferences. Let's explore some of the best Park City golf courses in the area and what makes them unique to ensure you have a golfing experience to remember.
Quick Reference Guide to Golf in Park City, Utah
Park City is known as a top destination for skiing and snowboarding, but it's also one of the best places in the U.S. for golfing. Whether you are looking for a public course, private country club, or a private golf community, there is an incredible range of golf courses in Park City.
To help you find the best Park City golf course for your needs, make sure you read all of our golf guides:
For our choice of the 8 best golf courses in Park City, read our detailed comparisons below.
Canyons Golf Course
Public golf course with holes running through Park City Mountain Resort
Inside Park City, within Canyons Resort
18-hole golf course, par-70, and 6,000 yards
Canyons Golf Course is a public golf course with holes running through Park City Mountain Resort, which double as ski runs in the winter. The golf course was designed by architects Gene and Casey Bates, and boasts scenic views of Wasatch and Uinta Mountain.
In addition to the incredible views, Canyons Golf Course is also unique because it features 550 feet of elevation change. There are six holes located on skiable terrain above Canyons Village. Hole 10 has the highest elevation change of 297 from tee to green. Hole 18 has an island green with Willow Draw Stream surrounding it, adding more challenge to this beautiful course. Another noteworthy feature is the cart paths that serve as bunkers and are part of the playable terrain.
The design on a hilly course is challenging yet enjoyable, with elevated tees making for some memorable shots. Canyons is one of the best golf courses in Park City for both visitors who stay at the Park City Mountain Resort and for full-time Utah residents who don't have private access to a golf community.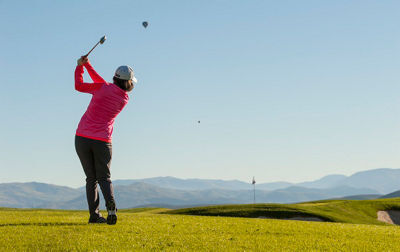 If you're choosing a Park City golf course for an upcoming visit or vacation in Park City, make sure you also read our guide to the best resorts in Park City.
Park City Golf Club
Public golf course
In the center of Park City, on Thaynes Canyon Drive
18-hole, par-72, and around 7,000 yards
Park City Golf Club is a popular and affordable golf destination that is municipally-owned. This Park City golf course was originally designed by William Neff, then redesigned by his son William Neff Jr. in 2003.
With an elevation of 6,700 feet, the temperatures on this course are cooler than other Park City golf options, which is a great way to get away from the heat during the golf season. The course also offers incredible views of the valley below.
The terrain of this course changes every year depending on snow events. The greens are fast and hard to read due to the spacing between them and their surroundings. Tree-lined fairways and water hazards such as streams and lakes make up this course.
The Park City golf club also provides a variety of golf lessons, programs, and leagues, great for Park City visitors or residents.
Jeremy Ranch Golf & Country Club
Private golf course within Jeremy Ranch Country Club
Multiple golf memberships, tournaments, golf lessons, social activities and events
18-hole, par-72, around 7,000 yards
Jeremy Ranch Country Club hosts one of the top golf courses in Park City Utah, which was designed by Arnold Palmer and Ed Seay. Situated in the Wasatch Mountain foothills, it provides the golf course with decent elevation changes. Nine holes run through East Canyon Creek. The fairways are challenging as they are bunkered, sloped, and dotted with low brush, aspen, and pine trees.
The Jeremy Ranch Golf Course has fast greens, is walkable, and is ideal for all skill levels. Sitting above the golf course is the clubhouse which features a golf shop, restaurant, bar, fitness center, and event space. Plus, Jeremy Ranch is one of the only golf communities to provide an affordable social membership option for Park City residents.
Visit our full guide for more details to see current homes for sale near Jeremy Ranch.

Park Meadows Country Club & Golf Course
Park City's only member-owned private golf and social club
Located in Park City proper near the Prospector area of Park City
Award-winning golf course, golf simulator, lessons, leagues, and clinics, clubhouse and fitness center
18-hole, par-72, and 7,390 yards
Park Meadows Country Club is nestled around the award-winning Jack Nicklaus Signature Golf Course, and the golf course has been listed in the top 3 of Utah Business Magazine's Book of Lists, Golf Courses. It was designed by Jack Nicholas in the 1980s and renovated in 2011.
Each hole provides views of the mountains around Park City. The course is fast, fair, well-designed, and walkable, and golfers can complete a round in under four hours. The course is well-maintained but challenging, so don't forget extra balls! If you want to spend a more relaxing day on the green, Park Meadows is the way to go.
In addition, the Park Meadows Golf Clubhouse features a swimming pool and fitness center, and it offers parties and events for members and their guests. Park Meadows was even named the "Best Town Ever" by Outside Magazine, and the area has a large variety of properties for sale around the golf course, including single-family homes, townhomes, and condos.
Visit our full guide to Park Meadows for more details and see current homes for sale near Park Meadows.
Glenwild Golf Club & Spa
Private gated golf course community
Just 20 minutes North of Park City
Golf and social memberships, spa, fitness center, club activities and events
18-hole, par-71, and 7,540 yards with slopes, meadows, and hilly terrain
Glenwild Golf Club includes a private Park City Utah golf course designed by Tom Fazio. The golf course, clubhouse, and spa sit on 950 acres of pristine land. All of Glenwild was carefully developed to co-exist with nature, so it stands out for its mountain location and stunning views.
The course is designed around slopes, meadows, and hilly terrain, and a creek and lakes provide water hazards and scenery. The course offers a challenging play but is suitable for all skill levels.
Glenwild not only has one of the best Park City golf courses, it also presents many unique and incredible community opportunities. Visit our complete guide to Glenwild, Park City for more details, membership options, and to learn more about its real estate ownership options.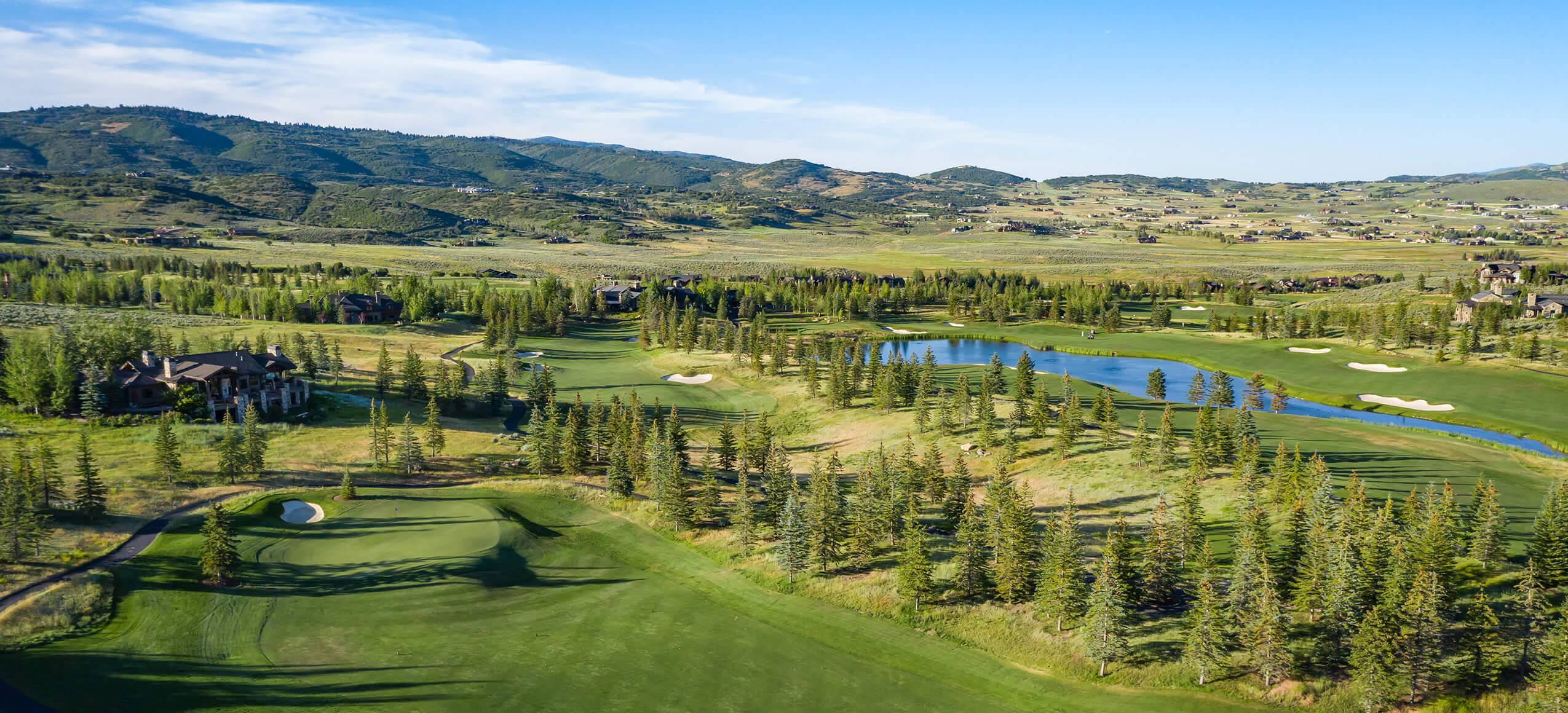 Dye Canyon Golf Course
Private golf course within Promontory Club
About 20 minutes away from downtown Park City, within city limits
18-hole, par-72, and boasts 7,690 yards
The Pete Dye Canyon Golf Course is a private course within Promontory Club, a private golf community. Designed by course architect Pete Dye in 2005, it includes rugged terrain of hills and canyons. If you're looking for the best places to golf near Park City Utah, Dye Canyon was named "Golf Development of the Year" by Golf Inc. magazine.
When it comes to golfing in Park City Utah, this course provides multiple tee boxes with six sets of tees suitable for all skill level players, even junior players. The golf course also features the Dye Clubhouse, includes an outdoor deck, Dye lounge, Dye library, and the Hearth Grille.
The Pete Dye Canyon Golf Course is one of two golf courses within Promontory Club, an elite golfing community and mountain resort. Get all the details on Promontory Club in our full guide, as well as homeownership options.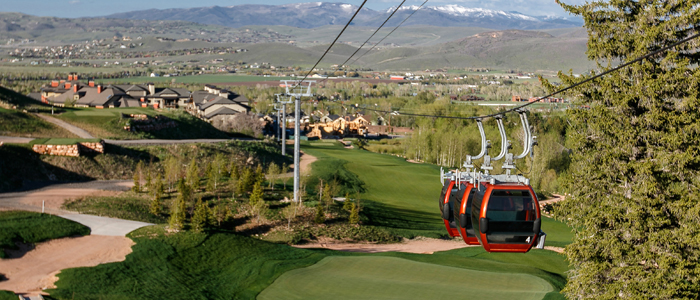 Painted Valley Golf Course
Private golf club with Promontory Club
18-hole, par-72, and a whopping 8,098 yards
The Promontory's Painted Valley Golf Course is a Signature Jack Nicklaus course and the sister course to Dye Canyon Golf Course. It was ranked by Golf Digest as the 3rd Best "New Private Course" in the U.S.
The course goes through high-altitude valleys and alongside a stream. It's one of the most challenging courses with long distances, undulated greens, and all the par 4s are over 400 yards. Enjoy gorgeous views on the course and off. Plus, in addition the the wide range of amenities and community events, Promontory provides a Golf Academy with private lessons and clinics.
To help determine the best golf course or golf community for your unique desires and ideal lifestyle, make sure you contact a Park City luxury real estate expert. In addition to knowing all about the best golf in Park City Utah, we also know all the insider details, pros, cons, and considerations of every unique community in the area. Reach out to us today!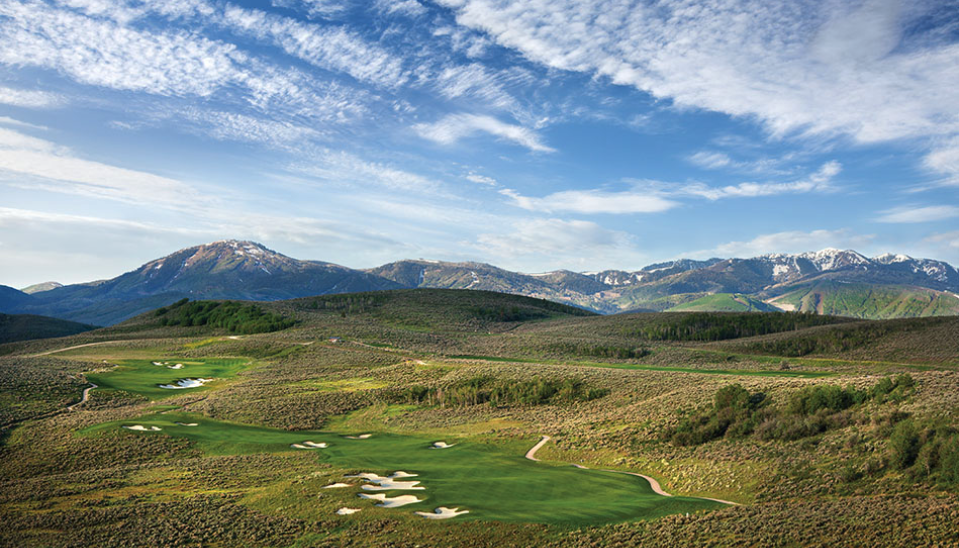 Tuhaye Golf
Private golf community within Talisker Club
Award-winning golf course, spa, fitness centers, family and community activities
18-hole, par-71, 7,292 yards
Tuhaye Golf Club is a golf course designed by Masters and British Open champion, Mark O'Meara. It was named the #1 golf course in Utah by Golfweek, and boasts a fun and challenging layout, with seven different sets of tees.
In addition, residents of Talisker Club have access to four different clubs, all with a variety of activities, amenities, and unique community events and lifestyles.
Tuhaye also boasts some of the most expansive and last remaining homesites within this beautiful luxury community. Visit our full guide for more details to see current Tuhaye homes for sale.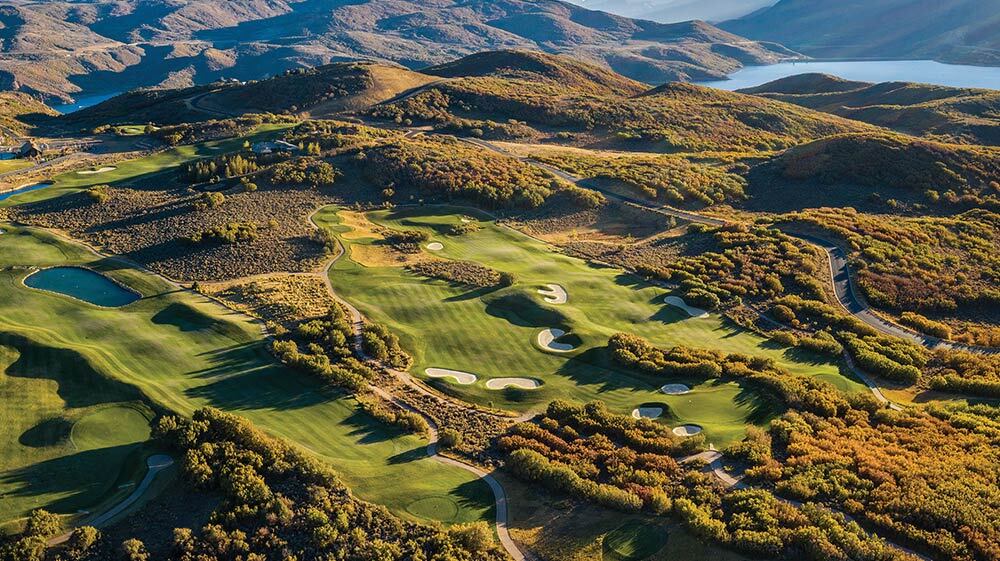 Even More Park City Golf Courses
Park City Utah golf courses provide an unrivaled range of stunning views, skill levels, amenities, lessons, and activities. All the above Park City golf courses have a few things in common; they provide challenging and all skill level courses, lots of sun, and great views of valleys and mountains, whether you are on the greens or at the many accompanying clubhouses.
However, there are even more Park City golf courses that are worth looking into! Here are even more options for golf in Park City:
Homestead Golf Club
Outlaw Golf Course
Lake at Mountain Dell Golf Course
Wasatch Mountains Golf Course
Soldier Hollow golf course
Victory Ranch (Private)
Red Ledges (Private)
Park City has a variety of activities and attractions, like the historic district, Olympic Park, museums, and scenic trails. If you're ready to make Park City your home, make sure you work with experts on Park City real estate and golf.
Contact an expert Park City Realtor today!