The Ultimate Guide To The Best Resorts In Park City, Utah For 2022
Posted by Ben Fisher on Wednesday, August 31, 2022 at 8:40 AM
By Ben Fisher / August 31, 2022
Comment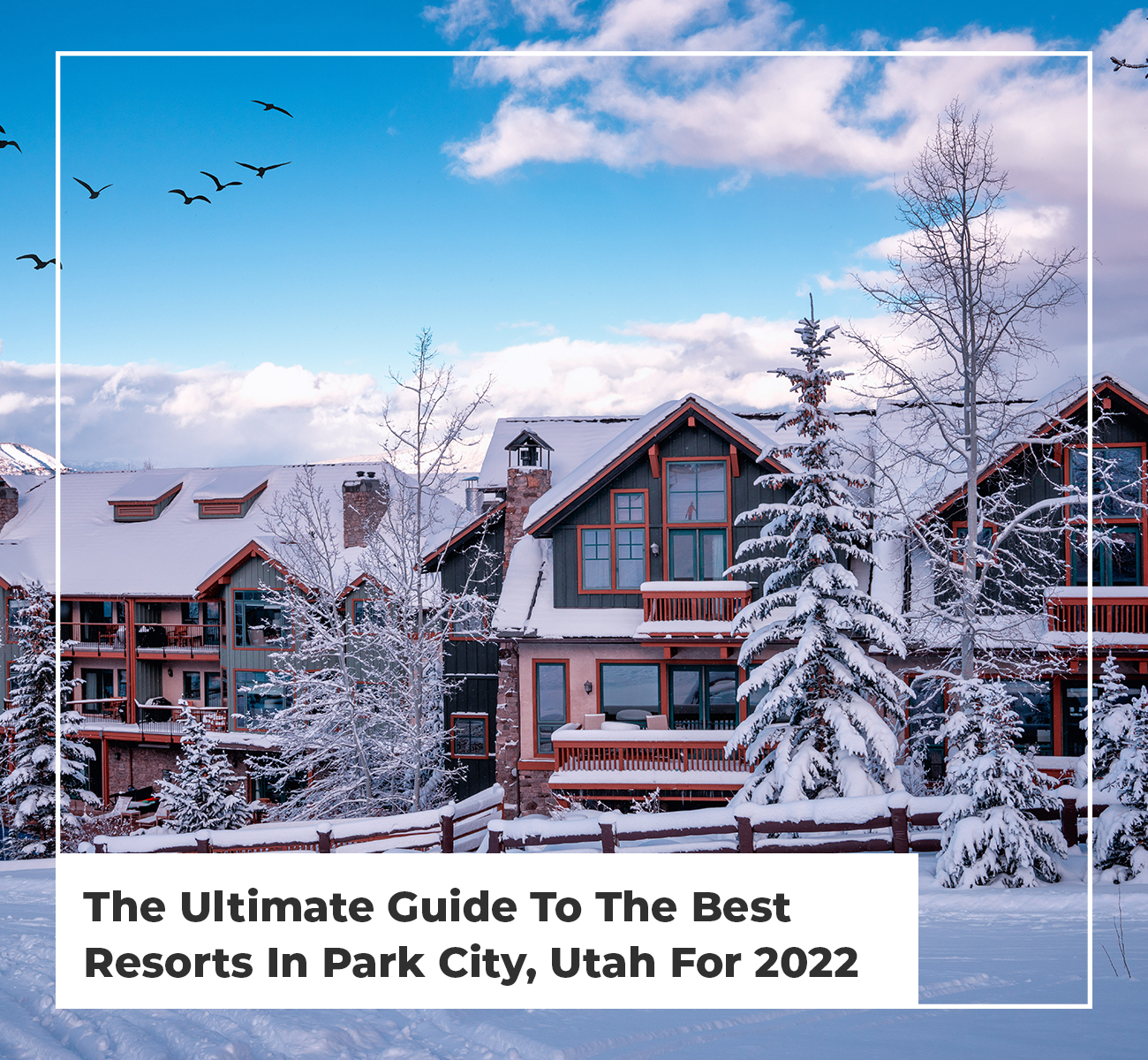 Nearly 8,400 people call Park City, Utah, home, but during tourist season, this number swells exponentially. Located 32 miles southeast of downtown Salt Lake City, the area is a ski mecca in the winter and filled with outdoor adventures in the summer. Surrounded by the Wasatch Mountains on one side and the Great Basin on the other, Park City is a mix of resorts that draw in tourists and a friendly atmosphere that makes it a quaint place for locals to live and work.
The tourist industry brings in millions of dollars in revenue to the town, including world-class resorts that cater to all types of people. There are five-star hotels with suites bigger than the average home to budget-friendly lodges that remind you of a European vacation.
This is your ultimate guide to the best resorts in Park City, Utah, as of 2022.
Park City, Utah
Park City is one of the prettiest towns in the United States. The Wasatch mountains are majestic and a destination for mountain bikers and hikers alike. Explore the mountains in the winter by snowmobile and snowshoe. There's always new terrain to explore.
Park City is partly home to the Sundance Film Festival. Each January, more than 45,000 people attend the largest independent film festival in the country. Since 1978, this prestigious festival has launched the careers of many independent filmmakers and their breakthrough movies. During the festival each year, Park City is also home to smaller festivals celebrating film and music.
The Utah Olympic Park is located in Park City. While the majority of the venues for the 2002 Olympics were held in Salt Lake City, most of the alpine events were held at the two ski resorts located in Park City. The Olympic Park hosted bobsleigh, skeleton, luge, ski jumping, and Nordic combined events.
Tourists can enjoy the lodge, a summer aerial training splash pool, zip lines, and a mountain coaster. Visit the park to see where history was made in 2002. You might see future athletes in training.
Each summer, the Tour of Utah has challenged bicyclists from all over the world for many years. Winding through the Wasatch mountains, the tour is nicknamed "America's Toughest Stage Race." The race has been postponed for the past three years due to the pandemic, but hopefully, this will change soon. Biking enthusiasts can challenge themselves to past courses.

Ski Resorts
Two main ski resorts are Deer Valley Resort and Park City Mountain Resort. They are a part of the Wasatch Mountain Range, which runs 160 miles from the Idaho border to central Utah. They are the western edge of the Rocky Mountains. The tall peaks and an annual snowfall exceeding 300 inches ensure plush forests and excellent ski opportunities.
Park City Mountain Resort
Park City merged with Canyons Resort in 2015 to create the largest ski area in the United States. There are 17 slopes, 14 bowls, 348 trails, and 22 miles of lifts. It spans eight mountain peaks and over 7,300 skiable acres. The base elevation is 6,900 feet, and the summit is over 10,000 feet. The average annual snowfall is 365 inches.
When Salt Lake City hosted the 2002 Winter Olympic games, snowboarding and ski events were held at Park City Mountain Resort.
During the summer, there is an alpine slide and alpine coaster. One can take the ski lift up to the top for hiking and biking adventures. A miniature golf course, climbing wall, and trampolines with harnesses are near the base.
Deer Valley Resort
The other ski resort in the valley is Deer Valley. Thirty-eight miles east of the Salt Lake City airport, Deer Valley also hosts several alpine events for the 2002 Winter Olympics. The International Ski Federation and the FIS World Cup also hosts numerous events at the resort. There are six mountains over 2000 acres in area. Twenty-one chairlifts can carry over 50,000 skiers a day up to the summits. Skiers of all ages and abilities enjoy Deer Valley. A ski school, rental shops, and childcare facilities are near the mountain's base.
Deer Valley is a ski-only resort – snowboarders will need to hop on over to Park City Mountain Resort. Deer Valley is a 15-minute walk from Main Street and close to multiple lodging resorts.
Lodging and Resorts
Catering to the many tourists who flock to the area in summer and winter, Park City has dozens of resorts to rest between outdoor adventures. There are five-star hotels and more affordable options. There are options to ski in and out of the lodge – meaning you can catch a lift very close to the resort property and end the run very close to the resort property.
These are often the pricier lodging options, but you don't have to bother with buses or drive your car to the lift areas. Groups on different ski schedules love this option – everyone can meet back in the room at the end of the day.
One other consideration – ski-in, ski-out access is generally busier, so if you are looking for a quieter destination, a lodge further from the lift or slopes might suit you well.
Waldorf Astoria Park City
Located at the base of the Park City ski area, The Waldorf is a luxury property where you'll be pampered. Like several other resorts in the area, there is ski-in, ski-out access, and ski concierge service.
The Waldorf Astoria has rooms and suites with private balconies, kitchens, living areas, and jacuzzi tubs. Hotel amenities include a year-round outdoor swimming pool, hot tub, gym, spa, and restaurant. Treat yourself and your canine friend to one of the premier names in lodging.
In the summer, you are steps away from the Gondola for mountain adventures, fly-fishing areas, rounds of golf, and outdoor concerts.

St. Regis Deer Valley
Located at the base of Deer Valley Ski Resort, you can ski in and out of the lodge's front doors. A glass funicular connects to the base of the ski resort and Snow Park Plaza. There are slope-side views and several restaurants. Enjoy steak and seafood at RIME, French foods at Brasserie 7452, cocktails at the St. Regis Bar, or dine at Chef's Table, enjoying great views and a wine vault. There are deluxe rooms and suites with comfy beds, luxury linens, marble bathrooms, and private balconies. The rooms range from 500 to 2500 square feet. There are three restaurants, an on-site spa with a sauna and steam room, a gym, and a multi-level infinity pool.
St. Regis is one of the premier destination resorts to appreciate the ski season or summer adventures. Enjoy a unique mountain lodge experience with a butler and impeccable housekeeping service.
Other amenities include nightly homemade s'mores by the fireplace, sunset champagne sabering (bottles opened with a sword), meet and greets with past Olympians, and a pool that spans two levels.
Montage Deer Valley
Another resort located at the base of Deer Valley Ski Resort, the Montage Deer Valley, is a mountain lodge that epitomizes the feeling of the west. There is ski-in and ski-out access while being close to Main Street. Rooms are spacious with private balconies, gas fireplaces, and beautiful artwork.
Start your day at the coffee shop on-site and end it at one of the restaurants at the resort. Eat out on the terrace facing the mountain. After skiing, relax at the spas or one of the swimming pools. Take the kids to the bowling alley right in the hotel.
Summer activities include hiking, biking, golfing, and fly-fishing.
Stein Eriksen Lodge Deer Valley
Stein Eriksen was a world-famous Norwegian skier who gained notoriety in the 1948 and 1952 Olympic games. He spent many years as a ski school instructor, ultimately becoming the Ski Director at Deer Valley Resort and Host of the lodge that bears his name.
Stein Eriksen Lodge reminds one of a European ski lodge with ski nuances everywhere. Amenities include a restaurant, spa, heated swimming pool, game room, and fitness center. Catch a yoga class at the lodge to give your muscles a much-needed stretch. Outdoor dining is protected from the elements in your alpenglobe.
Each room is unique with a homey feel. Meet your friends in the lobby for a chat by the massive fireplace. Head off to the rental shop for bikes in the summer and skis in the winter.

Goldener Hirsch
This resort near Dear Valley is a ski-in, ski-out destination. The closest lift is the Silver Lake Express Lift. Goldener Hirsch has old-world architecture with a European style. It reminds one of an Austrian ski chalet. It was recently renovated, and the rooms have a unique character. Some rooms even have wooden four-poster beds.
A Restaurant, sauna, and hot tub await you after your day on the slopes. The Restaurant and Kitz keep the European theme with Bavarian pastries, bratwurst, and Viennese beer.
The usual activities await your participation – mountain biking, horseback riding, golf, hiking, and hot-air ballooning can be arranged with the concierge.
The rooftop pool and hot tub allow you to soak while enjoying the mountain view. Work out and sit in the sauna with the same views. Treat yourself to a unique sensory bath experience with ritual immersion and a guided digital bath ritual.
Westgate Park City Resort & Spa
Next to the Gondola at Park City Mountain, there is ski-in and ski-out access. This is a family-friendly resort where kids stay free. Rooms have private balconies and kitchenettes, many with views of the slopes.
Amenities include a spa with a hydrotherapy circuit, steam room, and sauna. There are indoor and outdoor pools, a hot tub, a tennis court, a game room, and a children's playground.
Main & Sky
A departure from the big lodges at the base of the ski resorts, Main & Sky is a quaint space with only 33 suites. Each room has a balcony and kitchenette with a residential vibe. Rooms include a penthouse and junior penthouse suite and two- or three-bedroom residences. Some have hot tubs or pool tables in the room.
There is an indoor heated lap pool, hot tub, fitness center, spa, and restaurant. Enjoy a complimentary breakfast before heading out for a stroll on historic Main Street.
The Chateau Deer Valley
With a modern appeal, the Chateau Deer Valley is a four-star hotel popular with families and couples. Suites with a full kitchen are available for meal preparation in your room. Separate living and sleeping areas are perfect for groups traveling together.
Amenities include a heated outdoor swimming pool, multiple hot tubs, a spa, and an Italian restaurant. The outdoor courtyard and pool just underwent a $3 million renovation – relax beside a water fountain, fire pits, seating areas, and lounging space.
Park your car in a free underground parking structure and take a free shuttle to the base of the mountain or Historic Main Street. The front desk can help with any reservations for winter or summer activities.
Hotel Park City, Autograph Collection
Another family-friendly resort is located at the base of Park City Mountain. There are plenty of kid's activities and amenities. The Hotel Park City is owned and managed by Marriott Corporation. Room choices include rooms, suites, or cottages. The cottages have private hot tubs on balconies with mountain décor.
Ski runs are close by. In the summer, guests enjoy an 18-hole golf course or head up the lifts for mountain biking and hiking. Return to the hotel for a spa, outdoor heated pool, hot tub, and restaurant.

Hyatt Centric Park City
At the base of Park City Mountain Resort, the Hyatt Centric Park City has ski-in and ski-out access via the Sunrise Lift. Families and groups enjoy this hotel for rooms with up to four bedrooms.
Shuttle buses take guests to Park City's Main Street. Come back to the hotel to use the heated swimming pool, hot tub, fitness center, spa, and sauna. Challenge your friends to a game of tennis on the resort court.
The Escala Provisions Company Restaurant & Bar has locally sourced comfort food and a fully stocked bar. It's open for breakfast, lunch, or dinner with menu choices for every dietary wish.
Don't forget to check out the lobby market for souvenirs of your trip.
Zermatt Utah Resort & Spa
Like stepping into a Swiss resort, Zermatt Utah Resort & Spa is run by hotel giant Wyndham. This resort has two pools, a spa, a mini-golf course, tennis courts, life-size chess and checkerboards, a carousel, and shuffleboard. Rooms are cozy with everything you'd expect from a hotel.
This resort is suited for the more budget conscious who want to spend their money on the fun things that Park City offers.
Grand Summit Hotel
Another popular hotel choice located at the base of Park City Mountain Resort, the Grand Summit Hotel, recently received a $15 million makeover. This ski-in, ski-out property updated its guest suites, added a spa, and updated its café.
Owned by Vail Resorts (a Colorado-based company), the hotel has all of the perks you've come to expect from a resort. There are ski valets and ski storage, so your equipment is ready to go and easy to handle.
Rooms have fireplaces, safes, and room service. The resort has an outdoor pool, spa, fitness facilities, and concierge service to attend to your every need.

Pendry Park City
The newest resort at the bottom of Deer Valley Ski Resort, Pendry Park City, has luxury, comfort, and convenience. Reminiscent of an alpine ski chalet, the hotel is warm and inviting and yet modern. There are lounges, gathering spaces, and well-appointed rooms. Pendry Suite is a sprawling 3,691 square feet of space with all of the home's comforts, including a washer and dryer.
The world-class spa offers massages and an herbal ski room. Head to the Pool House and bar on the roof for a drink and a bite to eat.
The restaurant on site is a Japanese steakhouse and sushi bar.
Heading off to the slopes, ensure you have all your gear and visit the Compass Sports rental shop for any last-minute additions. The pedestrian village and basecamp are right outside the front door for ski-in and ski-out access.
For a change of pace, head to the Utah Olympic Park or Main Street. The Pinwheel Kids Club and pizza joint make this resort fun for the entire family.
Visit a Park City Resort Today
Whether you are a ski buff who desires instant access to the slopes, a film enthusiast, or an overworked mom needing a spa vacation, Park City is a destination for summer and winter fun. The two world-class ski resorts offer runs to challenge any skiing ability. If you are new to the sport, there are rentals and lessons from expert instructors.
Park City's Main Street offers over 200 restaurants, art galleries, and boutique shopping. No matter where you stay, you can walk or catch a shuttle to endless entertainment.
Each resort on this list offers a luxury stay with all amenities. Spa treatments, swimming pools, hot tubs, nightlife, and restful sleep with fantastic views await you at a Park City resort. They offer their unique twist and pampering fit for royalty.
Be careful, though – once you experience everything Park City offers, you might not want to leave. Did we mention Park City was a great place to live as well? Find out for yourself.
The Fisher Group is a multi-faceted team that can offer their clients significant experience whether they are purchasing or selling property in Park City, UT. This experienced real estate team knows the industry and strives in getting clients exactly what they are looking for.
View All Homes For Sale In Park City, Utah