Red Ledges Utah: Membership Guide & Homes for Sale
Red Ledges is a growing luxury golf community in Heber City, Utah. This beautiful pastoral valley is bordered by the scenic Wasatch Mountains to the west and the tranquil Jordanelle reservoir to the north. Owning Red Ledges real estate provides you with a rich variety of amenities, activities, community events, and a luxury, easy-living lifestyle with world-class services and maintenance.
Learn more about the communities features, Red Ledges Utah homes for sale, and ownership options in this guide.
Red Ledges Amenities, Features & Memberships
There are many things about Red Ledges in Heber City, Utah that draw in residents and visitors, but one of the biggest features is its beautiful natural environment. Homebuyers not only get luxury homes in a pristine location with dramatic mountain views, but they also have access to the amenities of the community's private country club and a massive selection of outdoor and community activities all year round.
Red Ledges Amenities
Red Ledges is a master planned community with a wide variety of amenities, activities, and community events. This private community offers many luxury amenities and properties as well as an extensive number of outdoor activities for couples and families.
Some of the most notable features of the Red Ledges community include the Jack Nicklaus Signature Golf Course, which has won awards in GOLF Magazine and Golfweek. Plus, you can take private lessons to improve your game at the Jim McLean Golf School.
Similarly, the Cliff Drysdale Tennis Academy is offered by the U.S. Open doubles champion and commentator, and provides private tennis lessons, group classes, and community tournaments.
The Village Center amenities include a heated pool, spa, kid's club, and a fitness center, with a 10,000 square foot expansion being developed. In the winter, Red Ledges members also receive exclusive access to private ski lounges at Deer Crest and Deer Valley Resort.
Even more of Red Ledges' incredible amenities & activities include:
Juniper Grill & Clubhouse
Heber City Park & playground
Equestrian center
Red Ledges ski club
Newly upgraded tennis and pickleball courts
Hiking and biking trails
Fly fishing
Horseback riding
Swimming & water sports
Holiday & special community events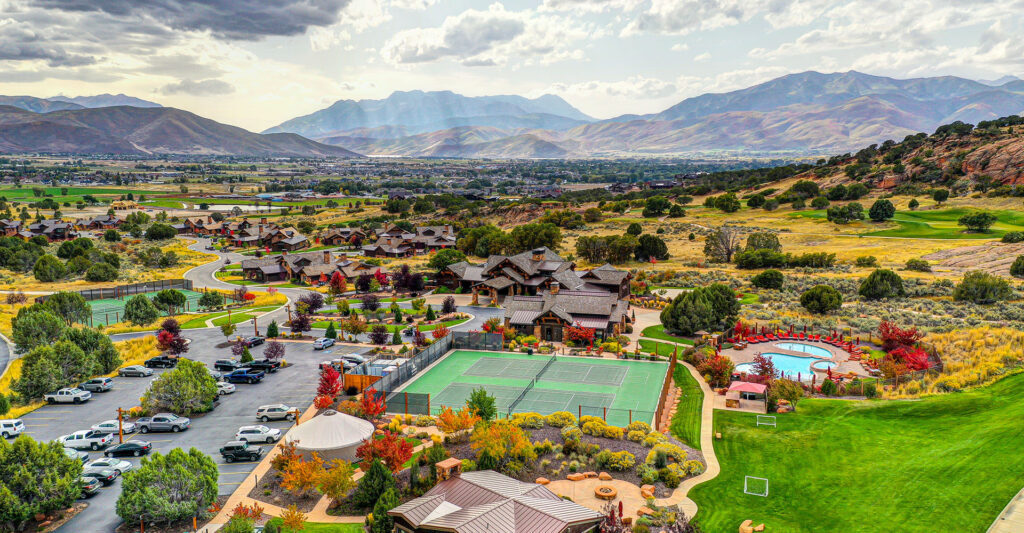 Red Ledges Club Memberships
There are two types of Red Ledges club memberships for residents to purchase with different costs and features.
Although pricing can change, the Red Ledges membership costs are approximately:
Red Ledges Golf membership: $175,000 deposit + annual dues of $12,500
Red Ledges Golf Park membership: $80,000 deposit + annual dues of $8,700
Red Ledges Lifestyle membership: $55,000 deposit + annual dues of $6,500
Make sure you work with an expert Red Ledges real estate agent to learn about all of the fees, costs, and benefits of purchasing a home for sale in Red Ledges, Utah.
Related: The Ultimate Park City Golf Course Guide
Red Ledges Location
Red Ledges encompasses 2,000 acres of compelling mountain real estate just south of Park City, Utah. It's within the limits Heber City, Utah, a small community with a pleasant village center, and only a 40 minute drive to the international airport at Salt Lake City.
Red Ledges is also conveniently located close to two top ski destinations; Deer Valley Resort and Park City Mountain Resort. The Park City resort is only a 15 minute drive from the Red Ledges golf course, and provides easy access free from traffic congestion.
This beautiful slice of paradise is perfectly situated to provide convenience, privacy, and space in the outdoors. This is just part of what makes Red Ledges homes for sale so appealing to residents and visitors across the world.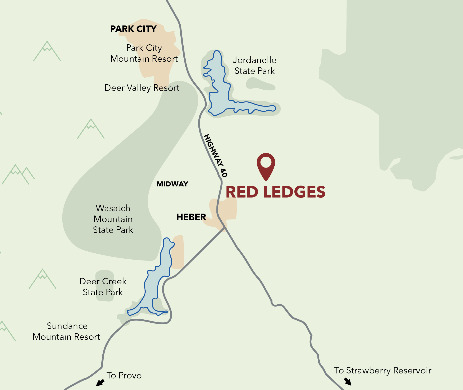 Listings & Homes for Sale in Red Ledges Utah
There are about 300 homes in Red Ledges, with more than 100 more homesites available and in process. Red Ledges real estate is ideal for those who value privacy, tranquility, and an active, outdoor lifestyle.
If you're looking for your dream mountain modern home, Red Ledges provides incredible homes and homesites with gorgeous unobstructed views. The Red Ledges construction team walks you through the process of finding the perfect homesite and designing your custom luxury mountain retreat.
Look through the current Red Ledges homes for sale, and contact us for more specific guidance:
And if you haven't already, be sure to register for a free account to receive email alerts whenever new Red Ledges homes for sale come on the market.
Red Ledges Real Estate For Sale
September 21, 2023
$3,450,000
Med. List Price
Red Ledges Neighborhood Guide & Lifestyle
When you look through the Red Ledges real estate for sale, you'll notice a variety of home types, sizes, and styles. All of the homes for sale in Red Ledges include snow removal, landscaping, and other home maintenance services--another reason why the Red Ledges lifestyle is ideal.
The Red Ledges community is divided into a few different neighborhoods:
The Preserve at Lookout: This area features 27 homesites where you can build a custom home with panoramic views of Heber Valley and the 12th, 13th, and 14th fairways of the golf course.
Park View Villas: Sitting next to the Jack Nicklaus Signature Golf course, this neighborhood has 51 townhomes with a variety of 9 potential floor plans. Residences offer spacious living with 2,200-3,000 square feet and 3-4 bedrooms
Mountain View Village: With only five beautiful models, this neighborhood is just a short walk away from the Village Center. Homes are between 2,600-4,000 square feet with 3-5 bedrooms and 3.5-5.5 bathrooms and family-friendly floor plans
Village Center Cabins: There are 17 spacious residences available in this neighborhood, all 2-3 bedroom cabins with open floor plans and the same level of service and luxury you can expect from all Red Ledges homes for sale.
Cottages at Kings Peak: This collection of luxury homes are built to suit the beauty of the natural environment that surrounds them. There are 5 distinct floor plans and 3 different exterior finish themes.
Club Cabins: This area has a variety of homesites between a quarter of an acre to 1.5 acres. All homes here are within walking access to the Clubhouse, and these are the primary units in the Red Ledges managed rental program, making it a great choice for those wanting to minimize costs.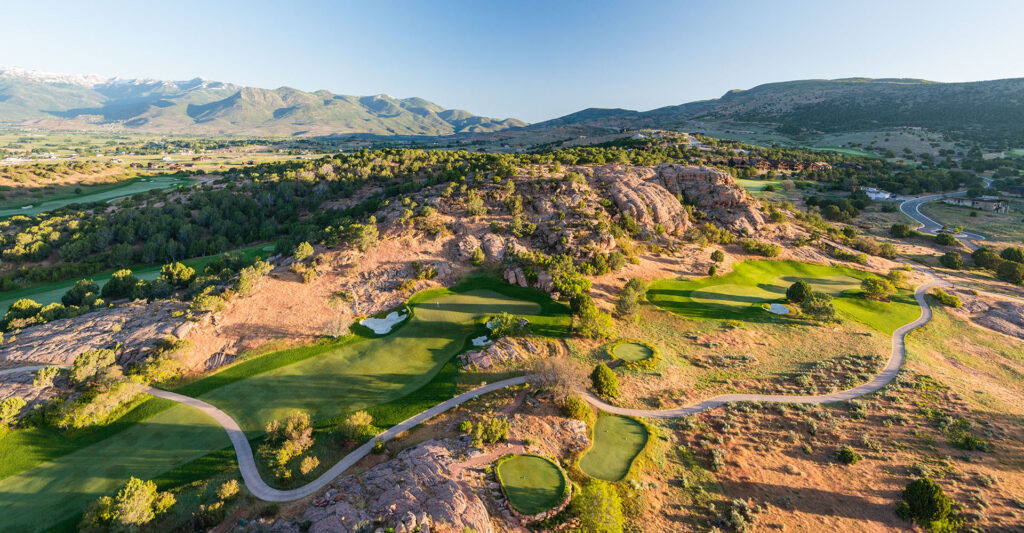 Red Ledges Utah Ownership Options
There is a unique alternative to purchasing one of the Red Ledges Utah homes for sale. Aspiring members can take part in the Red Ledges Club-managed rental program. This means you get to enjoy the amenities and lifestyle of Red Ledges, but the ownership of the Club Cabin is shared with other members.
If you're ready to be a part of the Red Ledges lifestyle, talk to us about finding the ideal home or homesite. We can help you determine the best neighborhood, location, type of home, membership, budget, and ownership option.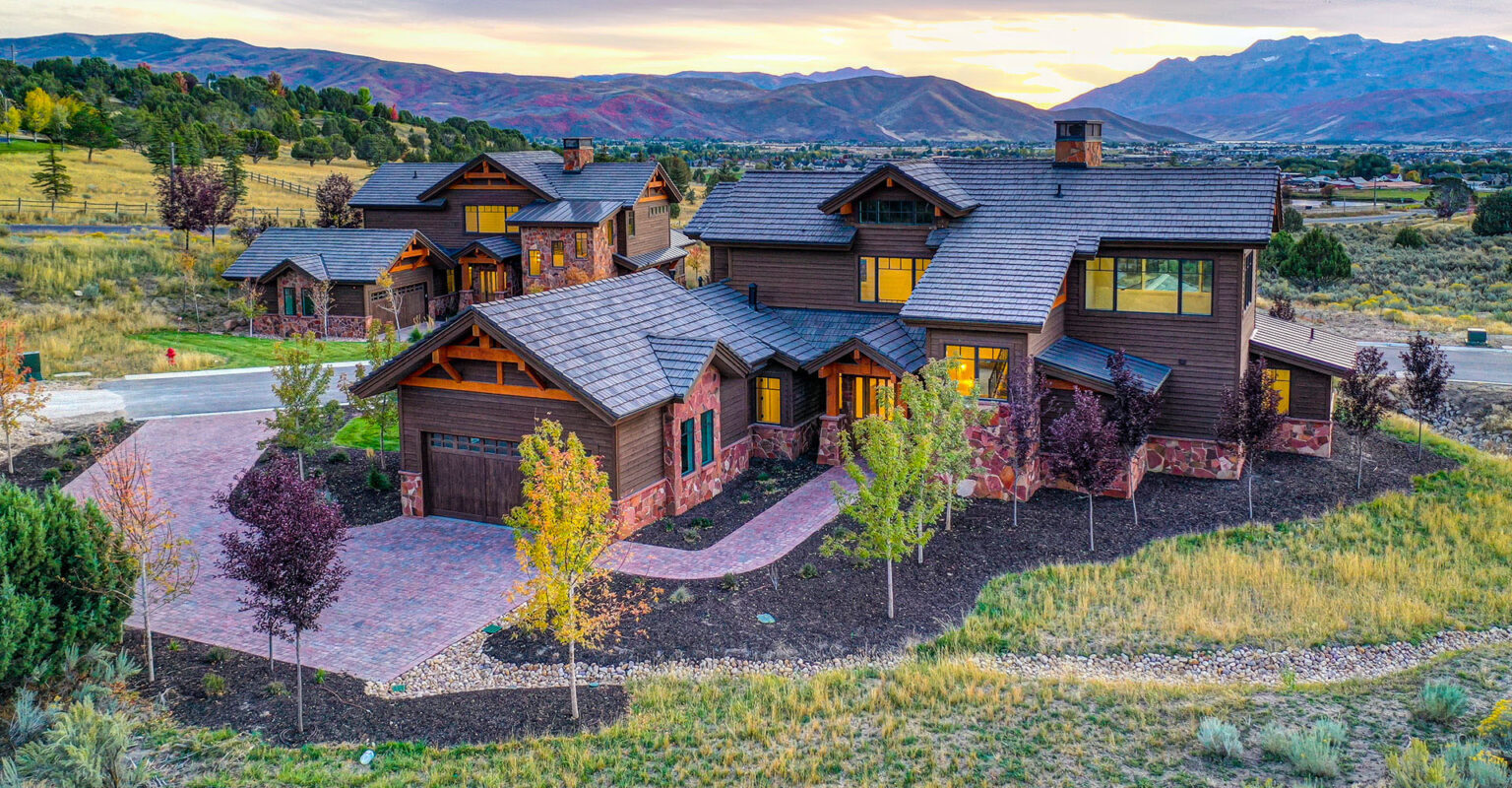 This is similar to the ownership options offered at Victory Ranch, Utah, another luxury golf community in the Park City area.
More Luxury Real Estate Near Red Ledges UT
The Red Ledges Utah homes for sale offer an incredible array of sizes, styles, world class amenities, and luxury living. However, if Red Ledges isn't the right place for you, there are plenty of other options.
The best way to find out what best fits your needs to is to talk to a local Park City real estate expert. Give us a call or sign up by using the form below.
Plus, get more details on the golf communities near Red Ledges, Park City:
Contact A Red Ledges Realtor
From Our Blog - Golf Posts